Toyota Rewards Visa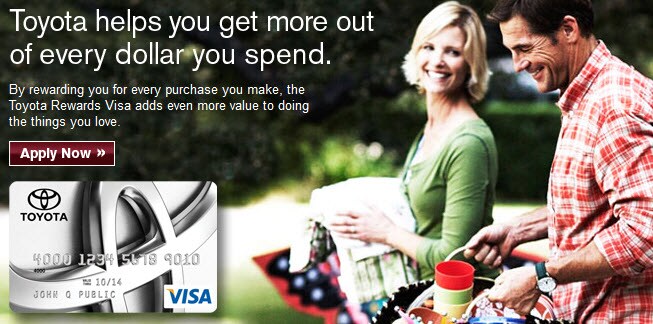 How Do I earn Points?
Make everyday spending more rewarding.
The Toyota Rewards Visa turns everyday purchases like groceries, movie tickets or even monthly bills into valuable rewards points.
Earn 5 points for every $1 spent at participating Toyota dealers. 
Earn 1 point for every $1 spent everywhere else Visa is accepted.
Be rewarded for every purchase you make and watch your points add up!

How Do I Redeem Points?
Redeem your points and help lower your out-of-pocket costs.
Redemption is simple with no certificates and no waiting. Visit your participating Toyota dealer and let them know you'd like to redeem, and they'll take care of the rest.
Your Toyota Rewards Points are redeemable toward:
Toyota service, parts and accessories
The purchase or lease of your next eligible Toyota